We value our patients' experience at Maya Chiropractic Center. If you are currently a patient, please feel free to complete the following Client Experience Questionnaire. The Questionnaire is in Adobe Acrobat format, and requires the free Acrobat Readere to view.
Download & Print Questionnaire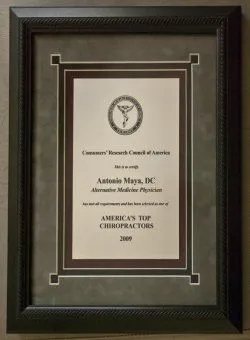 ---
Dr. Maya: I recently asked some of my patients if they could share with you how Maya Chiropractic Center has helped them. This is what they had to say...
---
"I had Migraine headaches for over seven years, ... after coming here, I am happy to say that I'm headache free! "
-Maria L.
---
"I can truly say that Maya Chiropractic Center has changed my life... I can do stuff without having to worry if I had Advil at home. "
- Jose G.
---
"...I was diagnosed with Fibromyalgia years ago... I took tons of pain pills and was at the doctors office all the time. They did so many studies that I can't begin to tell you about.. I started coming to Dr. Maya, and I feel 80% with only 5 treatments! I can't believe I didn't try this before. ... Trust me, at least give it a shot! "
- Maria P.
---
"Before I had seen Dr. Maya, no one was able to diagnose or treat my pain! evere pain and had run out of options. After just one initial visit to Dr. Maya. I felt better! I was able to take back my body and my life. All without medications and surgeries; only with Dr. Maya's treatments and adjustments! I would recommend to anyone suffering or in pain, that there is an answer, and a cure to your symptoms... "Dr. Maya! " Thank You for healing me! You Rock! All my Best! "
---
"I started going to Dr. Maya Chiropractic Center last year sometime in November of 2010. I was in preparation for my Strikeforce fight in St. Louisand at the time I was dealing with many injuries that I sustained during intense training. Previous to seeing Dr. Maya I had numerous visits to different Chiropractor's within the
San Fernando Valley and the LA area. No Chiropractor's and Sports Therapist's compared to how Dr. Maya treated me during my first visit. He put in a lot of time and effort into figuring out what problems I was facing and came up with numerous solutions to getting me to feel pain free so I could be ready to fight and train. When I do visit Dr. Maya he makes sure I leave feeling 200% better. As an athlete, especially being a fighter, you face many injuries at once. In my case I had roughly close to 10 injuries. Within a month, I was almost fully recovered. Thanks to Dr. Maya, I was able to train and fight last December. From that point on, I decided to make Dr. Maya as my lead Chiropractor and Sports Therapist. So far he has helped me get ready for 2 televised Showtime events, Strikeforce and M-1 Global/M-1 Challenge XXVI. I will continue to see Dr. Maya and will refer many athletes and friends to his
Chiropractic
Center. "
Thanks for all your help and support Doc!